Market Leading Business Travel Technology and Customer Service
About Atlas Travel
Atlas Travel Services is a leader in corporate travel management having won "Best Corporate Travel Management Company" in 2015, 2016 and 2019 at the Irish Travel Agency Association Awards. Our expertise is founded on experience and innovation – over the years we have implemented and embraced new technology to effectively manage travel programmes. We are an Irish owned and managed company and, through our partnership with American Express Global Business Travel, we can support your business and your business travellers across the globe and around the clock.
We will make business travel much easier, more efficient, and less stressful for you and your travellers. We will help transform your corporate travel program through innovative and cutting-edge technology solutions. Welcome to Atlas Travel.
Award Winning Travel Agency
We are an Irish-owned and managed company who have been recognized by Deloitte as a "Best Managed Company 2020, 2019 & 2018" and have been voted "Best Corporate Travel Management Company" in 2020 & 2019 by the Irish Travel agents association.


50 Years of experience in corporate travel
Deloitte "Best Managed Company" 2017, 2018,2019 and 2020
ITM "Best Travel Management Team" 2017
Best "Global Customer Service" Award 2018 American Express Global Business Travel
"Innovation Award Winner" Travel Media Awards 2017
ITAA 'Best Corporate Travel Management Company' 2015, 2016, 2018 & 2019
Experience the Atlas Travel difference for yourself.
Our Mission
Our Mission is" to enhance every customer experience". We employ, manage and develop the best people in the industry, to ensure we deliver the highest quality customer experience.


We work smarter to get the job done.
We believe in respect, equality and fairness for all.
We are open to change.
We strive to deliver 100% customer satisfaction.
We aspire to inspire.

Deloitte Best Managed Companies
2017, 2018 & 2019 Awards

Top Corporate Travel Management Company
2015, 2016 & 2019 & 2020 ITAA Travel Awards

Innovator in Travel Award
Travel Media Awards 2017

Leinster Winner Best Established SME
Ulster Bank Achievers Awards 2015

Shortlisted Best Services Category
Small Firms Association Awards 2015
Meet the Team
Atlas Travel have team of experts with 50 years of experience in corporate travel.
The Atlas Travel Story
In 1967 a young Irish Immigrant – Andy McKenna travelled to the USA and worked his way up through the ranks in TWA. At the age of 24 he set up Atlas Travel in San Francisco. Atlas Travel became the first Irish owned Travel Agency in the West Coast United States and for many years was the largest. Atlas Travel Dublin was set up to cater for incoming tours and outgoing overseas travel. Andy was greatly supported by many Irish Americans working within industry and was voted in as President of United Irish Societies at the age of 32 in San Francisco, this helped Andy secure a contract to do all Arch Diocese travel, as well as being involved in the setup of the All Stars GAA travel to the US. In the early 1970s travel to Ireland was affected by the troubles in Northern Ireland, Andy returned home to expand the Atlas Travel Irish operation and offered a broad range of leisure and corporate travel services including its highly successful sporting division headed up by his brother Frank Mc Kenna. Andy was devastated when he lost his brother Frank in 1989.
In 1977 Andy setup Irish Group Travel (with 9 other shareholders from the Travel Industry) and concentrated on chartering Aircraft to promote leisure travel to North America. Andy bought out the remaining shareholders and changed the name from Irish Group Travel to American Holidays. Andy Mc Kenna became the first Irish agent to charter flights offering discounted prices between Ireland and United States. This advancement in air travel and changes to air regulation opened the travel industry to a much greater market, and the Atlas Travel Group began to truly thrive. American Holidays became a very successful company, with offices in Belfast and Dublin, and over 50 employees. Andy sold this very successful business in 1994 and it became part of the TUI group of brands.
Atlas Travel, from its rather humble beginnings has become one of Ireland's largest independent Travel Agencies, consistently ranked in the top Corporate Travel Management Companies in Ireland. Atlas Travel was awarded the Best Corporate travel management company in 2015, 2016, 2018 & 2019 at the Irish Travel Industry Awards, it won the "Innovation in Travel Award" 2017 at the Irish Travel Media Awards and was the first corporate travel company to secure a Deloitte Best Managed Programme Award. Atlas Travel Services also scooped the Best "Overall Customer Service Award" against stiff competition from over 140 countries represented worldwide at the recent American Express Global Business Travel Conference.
In 2019 Atlas Travel was purchased by Club Travel Limited and is now part of the wider Club Travel Group. Together, Club Travel and Atlas provide corporate travel services to over 350 businesses across Ireland, the UK and Europe.
We look forward to providing you with our Award winning service.
Sincerely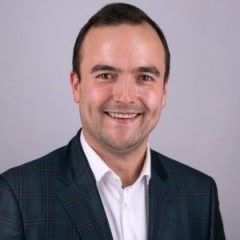 Carl Lonergan